Bouquet Village is a small village located near the Elemento Academy. It is home to a small crafting community.
Early on in RO2's redevelopment, Bouquet Village was originally referred to as the town of Almin. It is unsure if this was a translation error or a developmental change.[1]
Geography
Bouquet Village is located in the eastern region of Mt. Mjolnir.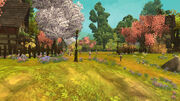 Points of Interest
NPCs
Villagers
Visitors
History
Quests
References