Dancer

Dancer concept art for RO.
Info
Job Tier
2nd Class
Job Base
Archer (female)
RO Job Bonuses
STR
AGI
VIT
INT
DEX
LUK
+2
+7
+3
+5
+5
+8
RO2 Job Bonuses
STR
AGI
VIT
INT
WIS
none
none
none
none
none
Dancers are musical performers that enact spells through timed movements of the body. They can partner up with Bards to perform powerful spells.
The Dancer job class is only available for Ragnarok Online.
Background
With rhythm and good dancing, the Dancer can use her body to dance as if a god has been heard and so attracts many others to dance along with her. Since then, the dance has shattered the minds of many people. However, she was without a job and she was dancing in a bar or a concert hall. While she was singing a song, she met a musical poet who watched her dance and felt that they fit together and decided to adventure together.[1]
Job Change Quest
Notable Dancers
Races
Only female Normans can become Dancers.
Armor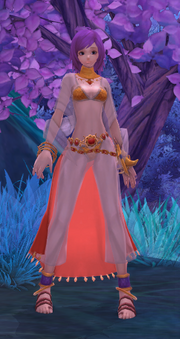 Dancers can only equip gear designated as:
Dancer Classes Only
2nd Class Only
All Classes
Weapons
Dancers can utilize the following weapons:
Abilities
Almost all Dancer skills were localized to completely different names in the international version of Ragnarok Online (iRO). This list is the English translation of the original names from the original version of the game (kRO).
Advanced Jobs
Dancers can go on to become a Wanderer or transcend to Gypsy.
| 1st Class | 2nd Class | 3rd Class | Transcendant |
| --- | --- | --- | --- |
| Archer | Dancer | Wanderer | Gypsy |
Trivia
Dance has certainly been an important part of ceremony, rituals, celebrations and entertainment since before the birth of the earliest human civilizations. Archeology delivers traces of dance from prehistoric times such as the 9,000 year old Rock Shelters of Bhimbetka paintings in India and Egyptian tomb paintings depicting dancing figures from c. 3300 BC.[2]
Gallery
References