Gunslinger

Gunslinger concept art for RO.
Info
Job Tier
1st Class (RO)
Job Base
Novice
RO Job Bonuses
STR
AGI
VIT
INT
DEX
LUK
+4
+1
+1
+2
+9
+7
RO2 Job Bonuses
STR
AGI
VIT
INT
WIS
none
none
none
none
none
Gunslinger are a solid distance job with a variety of fire weapon to use in battle like Revolvers, Gatling gun, Rifle, Shotgun and Grande launcher.
Background
Entrusted with the most dangerous weapons of their time, Gunslingers fire at their enemies with smooth speed and unerring accuracy. These heroic gunmen are firearm specialists that methodically fight their enemies from long distances.[1][2]
Job Change Quest
Notable Gunslingers
Races
Only Normans can become Gunslingers.
Armor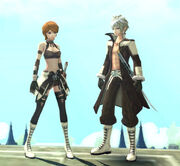 Gunslingers can only equip gear designated as:
Archer Class (headgear, footgear, garment)
All Classes
All Classes except Novice
Weapons
Gunslingers can use the following specialized weapons:
Abilities
Advanced Jobs
Gunslingers can move on to become a Rebel.
| 1st Class | 2nd Class |
| --- | --- |
| Gunslinger | Rebel |
Trivia
Gunfighter and gunslinger are 20th century words, used in cinema or literature, referring to men in the American Old West who had gained a reputation as being dangerous with a gun. Gunman was a common term used for these individuals in the 19th century.[3]
The Gunslinger was ported over to the first version of Ragnarok Online II as the Recruit. The most common complaint about the Recruit was that it had abysmal hit rates compared to other job classes. In the second version of RO2, the Recruit did not make a return as a playable job class but a costume based on it is available in the new version of the game.
Gallery
References
Patches