Majestic Goat
Majestic Goat

The item's info window.
Info
Type
Headgear
Effects
Original

Costume

Weight
80 (original)
10 (costume)
Source
Baphomet (original), Replication Expert Palt (costume)
Cost to buy
--
Cost to sell
10 Zeny
A helmet, made to look like mighty goat horns, that can increase the strength of its wearer. Goat-shape helm gives spotlight for the user.
On iRO, this item is localized as Magestic Goat.
Original
Base Level 0
Swordsman Class, Merchant Class
Costume
Base Level 100
3rd Class, Taekwon Class, Ninja Class, Gunslinger Class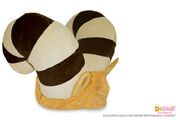 In 2004, GRAVITY released a soft hat based on the Majestic Goat. It was manufactured by Tomato Co. and made available through the RO Shop.[1]
Original
Costume