Monk

Monk concept art for RO.
Info
Job Tier
2nd Class (RO)
2nd Class (RO2)
Job Base
Acolyte
RO Job Bonuses
STR
AGI
VIT
INT
DEX
LUK
+8
+7
+6
+2
+4
+3
RO2 Job Bonuses
STR
AGI
VIT
INT
WIS
??
??
??
??
??
Monks are martial artists who use a combination of Holy magic and their fists to combat their enemies.
Background
Some of those who walked the path of Acolyte, an occupation entrusted to Odin, insisted that not only spirit but Odin should be given to Odin. They invested the time and effort to sharpen their bodies rather than their minds, and finally they had enough of a powerful body to be called a weapon. Many have invested a great deal of time and effort into doing their good works for Odin, but having their tempered bodies have garnered fear and respect in the name of Monk. Rising in power with the mysterious abilities of the spirit and body, they were able to break everything that stood in their way with their strong stamina and powerful rehabilitation techniques. They now proclaim the will of Odin according to the decree of King Tristan III of Rune-Midgarts and the bishop of the cathedral, and declare the war with the riches of the world; it is time to exercise.[1]
Job Change Quest
See Monk Job Change
Notable Monks
No data yet.
Races
As worshippers of Odin, only Normans can become Monks.
Armor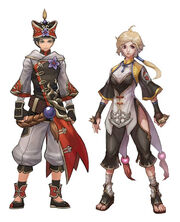 Monks can only equip gear designated as:
Acolyte Classes
Monk Classes
2nd Classes
All Classes
Cloth Armor (RO2 only)
Weapons
Monks can utilize the following weapons:
Abilities
Ragnarok Online
Ragnarok Online II
Advanced Jobs
Ragnarok Online
Monks can move on to become a Sura or transcend to Champion.
| 1st Class | 2nd Class | 3rd Class | Transcendant |
| --- | --- | --- | --- |
| Acolyte | Monk | Sura | Champion |
Ragnarok Online II
Monks can be further customized through the Master Level System.
Trivia
A monk is a person who practices religious asceticism, living either alone or with any number of other monks. A monk may be a person who decided to dedicate his life to serve the other living beings or to be an ascetic who voluntarily chooses to leave mainstream society and live his life in prayer and contemplation. The concept is ancient and can be seen in many religions and in philosophy.[2]
Gallery
References