Moskovia is a small rustic town filled with unassuming people who greet you warmly.[1]
On iRO, this place is spelled as Moscovia.
Geography
Moskovia is a large island with a small fishing wharf.
Points of Interest
Government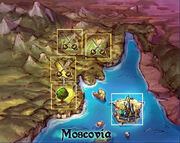 Moskovia follows a tsarist autocracy system of government, in which all power and wealth is controlled (and distributed) by the tsar (supreme ruler).
Quests
All quests in Moskovia require the completion of the Find the Moving Island quest.
Trivia
Muscovy (also Moscovia, Moscovie, Moskovia) is a historical European term for the Principality of Moscow and the Grand Duchy of Moscow.[2]
References
Patches
The Global Project

Japan
Taiwan
China
Thailand
Russia
Brazil
Indonesia
Philippines
USA