Ninja

Ninja concept art for RO.
Info
Job Tier
1st Class
Job Base
Novice
RO Job Bonuses
STR
AGI
VIT
INT
DEX
LUK
+1
+8
+1
+5
+6
+4
RO2 Job Bonuses
STR
AGI
VIT
INT
WIS
none
none
none
none
none
Ninjas are the perfect example of an hybrid job. they can basically focus on distance,meele and magic
Background
Shrouded in secrecy and mysticism , the Ninja is a formidable warrior from Amatsu that strikes swiftly before quietly escaping into the night. The elusive Ninja has an eclectic repertoire to dispatch enemies from the shadows: as a hybrid job, the Ninja specializes in dodge skills and attacks using Ninja Daggers, Shurikens, Kunai, and even magic.[1]
The Ninja is a hybrid career where you can do all sorts of physical and magic attacks with various evasion skills, using not only general weapons but also throwing weapons and tactics. Ninjas can defeat enemies using daggers and shurikens, throwing weapons, and magic-like "jutsus."[2]
Job Change Quest
See Ninja Job Change
Notable Ninjas
Races
Only Normans can become Ninjas.
Armor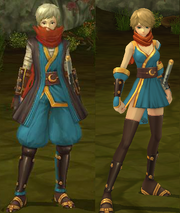 Ninjas can only equip gear designated as:
Thief Class
All Classes except Novice
Weapons
Ninjas can use the following specialized weapons:
Abilities
Advanced Jobs
Ninjas can move on to become a Kagerou (male) or Oboro (female).
1st Class
2nd Class
Ninja
Kagerou
Oboro
Trivia
A ninja or shinobi was a covert agent or mercenary in feudal Japan who specialized in unorthodox warfare.[3]
Gallery
References
Patches