Poring Coin
For the coins used in RO's 10th Anniversary event, see Poring Coin (event).
Poring Coins are coins that can be used to buy special trinkets and consumables. They can only be earned by winning rounds in Poring War.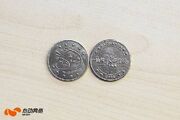 At ChinaJoy 2015, Dream Square had special Poring tokens manufactured for their special Ragnarok arcade machines, which included a special Poring claw machine and a Poring basketball machine.