Raccoon Hat

The item's info window.
Info
Type
Headgear
Effects
6 DEF
Weight
90
Source
Headgear Quest
Cost to buy
--
Cost to sell
10 Zeny
A hat created in the form of Smokie the Raccoon Monster.
Prerequisites
Base Level 50
All Job Classes except Novice
Merchandise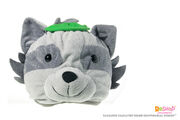 In 2004, GRAVITY released a soft hat based on the Raccoon Hat. It was manufactured by Tomato Co. and made available through the RO Shop.[1]
See Also
References
External Links