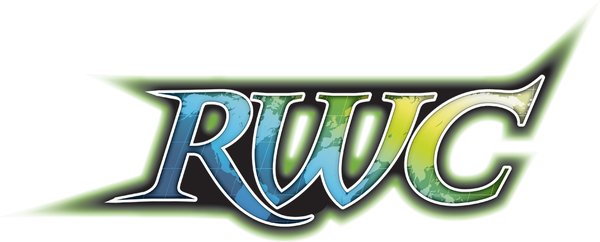 The Ragnarok World Championship, or RWC for short, is a grand final tournament deciding who are the best players among all Ragnarok Online users in 77 countries around the world, one of the biggest scaled competition in the global game business.[1]
History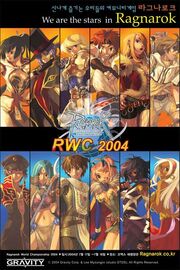 The first tournament was held in 2004, approximately 2 years after RO's official launch in 2002. The RWC has since then been held annually without fail, garnering much fame within the RO global community.
RWC was cancelled for the very first time in 2014 following lack of funds for all official servers to participate in the finals in 2013. It remains to be seen what will become of this RO tradition.
Rules of Engagement
RWC teams can only consist of 5-7 players. (In 2010, jRO proposed a change to allow RWC teams to be formed with 10 players.[2] It didn't last long.)
Each server can only have one team to represent them. (Later changed when several RO servers shut down.)
Teams cannot have repeating job classes, i.e. can't have 2 Knights, 3 Priests, etc.
Preliminary Tournaments
Each official RO server hosts its own tournament to determine which 7-player team will represent them at RWC. The following lists the pre-RWC competitions held in each server.
USRC - United States Ragnarok Championship (iRO)
REC - Ragnarok European Championship (euRO)
RBC - Ragnarok Brazil Championship (bRO)
RPC - Ragnarok Philippine Championship (pRO)
RJC - Ragnarok Japan Championship (jRO)
RTC - Ragnarok Thailand Championship (thRO)
RMSC - Ragnarok Malaysia/Singapore Championship (mRO)
RIC - Ragnarok Indonesia Championship (idRO)
RTC - Ragnarok Taiwan Championship (twRO)
RKC - Ragnarok Korea Championship (kRO)
After each server's teams have been decided, the players will physically be flown to the predetermined location of the actual RWC where they will take on other teams using unmodified computers in order to prevent hacking and cheating.
Championship Winners
RWC Logo
Date/Location of Tournament
Winning Team/Server of Origin

2004 July 17[3]
Seoul, Korea
Unforeseeable
twRO (Taiwan-Hong Kong)[4][5]
2005 June 26
Pasay, Philippines[6]
??
??
??
??
??
??

2007 July 21
Seoul, Korea[7]
Destruction
thRO (Thailand)[8]

2008 October 18
Pasay, Philippines[9]
??
thRO (Thailand)[10]

2009 November 01
Yokohama, Japan[11]
??
jRO (Japan)[12]

2010 October 02
Jakarta, Indonesia
??
thRO (Thailand)[13]

2011 October 15
Seoul, Korea
•`P h E n O m E n a`•
thRO (Thailand)[14]

2012 November 02
Seoul, Korea
??
jRO (Japan)[15]

2013 November 24
Tokyo, Japan
??
thRO (Thailand)[16]
cancelled
cancelled
cancelled
cancelled
cancelled
cancelled
cancelled
cancelled
cancelled
cancelled
cancelled
cancelled
cancelled
cancelled
cancelled
??
??
??
?
Videos
References
External Links