Sage

Sage concept art for RO.
Info
Job Tier
2nd Class
Job Base
Magician
RO Job Bonuses
STR
AGI
VIT
INT
DEX
LUK
+5
+5
+3
+9
+5
+3
RO2 Job Bonuses
STR
AGI
VIT
INT
WIS
none
none
none
none
none
Sages are essentially the opposite of Wizards, choosing to use their magic to inhibit their opponents by despelling their spells and hinder their advances. Sages are more in-tuned with the essences of the world, allowing them to endow the elements onto others.
Background
With their magical and physical abilities, Sages demonstrate their ability to keep up with physical battles. If Sages freely use four elements and use it to initiate a powerful attack, they are freely able to apply the four elements by using their intellectual ability in a different way. As a result, if a Sage has a high level of magic based on immense powers, they will use it to develop an Enchantment ability to help others.
One day, at an adventure recruitment notice by Lord Tristan III of the Kingdom of Rune-Midgarts, the Academy sends Sages to try to help the king, who does not spare much financial support. As a result, they were dispatched to join the ranks of the adventurers.[1]
Job Change Quest
See Sage Job Change
Notable Sages
Races
Both Normans and Elves are capable of becoming Sages.
Armor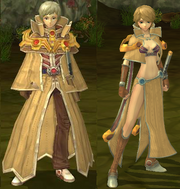 Sages can only equip gear designated as:
Sage Class
2nd Class
All Classes
Weapons
Sages can use the following weapons:
Abilities
Advanced Jobs
Sages can move on to become a Sorcerer or transcend into a Professor.
| 1st Class | 2nd Class | 3rd Class | Transcendant |
| --- | --- | --- | --- |
| Magician | Sage | Sorcerer | Professor |
Gallery