Silver Vine Fruit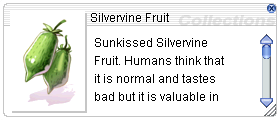 Silver Vine Fruit is a currency item used to exchange for access to memorial dungeons and to exchange for enchanting A-E grade coins with the Special Vending Machine and Coin Exchanger in Malangdo. Silver Vine Fruits were originally only obtainable through the Kafra Shop.
After Silver Vine Fruit was retired from the Kafra Shop, the currency item was repurposed to allow players to acquire it by doing various quests and in-game activities on special Revo-Classic Ragnarok Online servers. Only on Revo-Classic servers can players use Silver Vine Fruit to purchase items from the Kafra Shop.
On iRO, this item is localized as Silvervine Fruit.