Taekwon
Taekwon

Taekwon concept art for RO.
Info
Job Tier
1st Class (RO)
Job Base
Novice
RO Job Bonuses
STR
AGI
VIT
INT
DEX
LUK
+6
+6
none
none
+6
none
RO2 Job Bonuses
STR
AGI
VIT
INT
WIS
none
none
none
none
none
Taekwons are practitioners of the art of Taekwondo, utilizing their own physical bodies to perform devastating attacks.
NOTE: On iRO, the Taekwon is localized as TaeKwon Kid.
Unlike most adventurers who choose to join an official professional guild, some recruits choose to take an alternative, more challenging route: body discipline. After learning the ancient art of Taekwondo, they specialize in using a wide range of kicks. Their life will not be easy, as they must swear never to use traditional weapons, but their dedication will eventually lead them to great trials of strength.
Taekwon is a job that utilizes kicks and is able to change job if she is Level 10 or higher. Taekwon cannot equip weapons. Other items must be items that can be equipped by all professions except Novice.[1]
Only Normans can become Taekwons.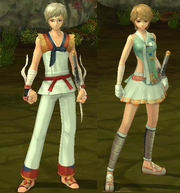 Taekwons can only equip gear designated as:
All Classes except Novice
Taekwons forego the use of weapons and instead specialize in a variety of kicks.
Taekwons can move on to become a Soul Linker or Star Gladiator.
1st Class
2nd Class
3nd Class
Taekwon
Soul Linker
Soul Reaper
Star Gladiator
Star Emperor
The Taekwon is named after the real-life Korean art of Taekwondo.[2]