User blog:ZeroTigress/The End of an Era
For 15 years, I have never, EVER had an issue with actually playing Ragnarok Online. The only time I ever had to reinstall the game was when I transferred from a Windows XP rig to a Windows 7 rig.
But today, all of that changes.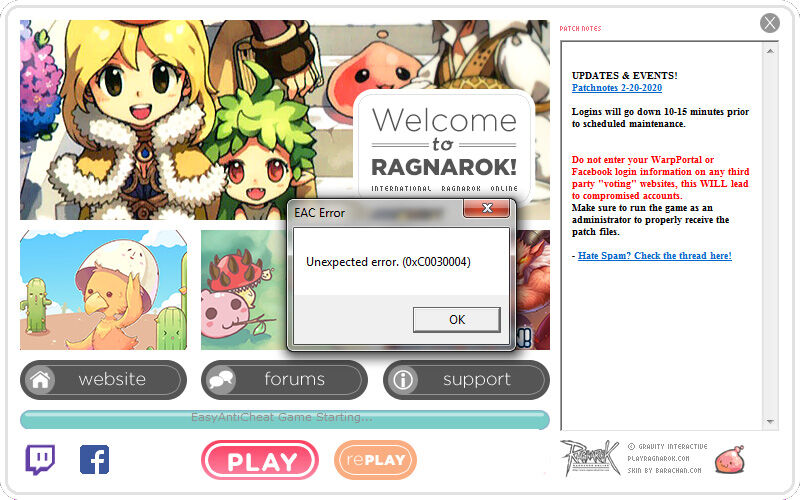 Yep. You read that right. Easy Anticheat has effectively walled me out of the game. (iRO's Zero server still works fine for me, oddly enough.)
I could try uninstalling and reinstalling the game, but given that I was already planning to retire from updating the wiki this month, I'm just going to take this as a sign. Sorry to everyone who was hoping for me to finish documenting Episode 15 and 16 lore. Chalk it up to fate, I suppose.
I will continue updating the webtoon pages (which will probably continue through next year at the rate they're releasing the chapters), but everything else (patch notes, article updates, etc) will no longer be updated by yours truly. Unless someone else in the community continues documenting kRO information as I have for the past 8 years, the wiki will likely end up in update limbo.
I guess this is officially my goodbye from the RO community in general. I've already stopped checking in on the iRO forums and stepped away from the iRO Community Discord. I will continue to have adminship over this wiki until I finish the webtoon pages. After that, well, it's up to the Gamepedia staff to decide to revoke my adminship and or not. The wiki honestly doesn't need an admin at this point since an active editor community is basically nonexistent. Any issues can be brought up to the Gamepedia staff on their Discord server, but I think the wiki will be fine without anyone at the helm if people keep doing small edits here and there.
---
Comments
Comments that use inappropriate language, are irrelevant, and/or are inflammatory will be deleted. Please contact a moderator or admin to report such comments.
Discussions and comments about the Ragnarok Wiki and articles should be directed to the forums. Thank you for your cooperation.