Wizard
Wizard

Wizard concept art for RO.
Info
Job Tier
2nd Class (RO)
2nd Class (RO2)
Job Base
Magician
RO Job Bonuses
STR
AGI
VIT
INT
DEX
LUK
+1
+8
+1
+12
+6
+2
RO2 Job Bonuses
STR
AGI
VIT
INT
WIS
??
??
??
??
??
Wizards are powerful offensive magic users. They rely on dangerous magic strikes as well as devastating Area of Effect spells to wreak havoc.
Magicians become more than magicians, having immersed themselves in the study of magic all their lives thus far and accumulating enormous amounts of magical energy that no one has ever seen. One day, when Tristan III, Lord of Rune-Midgarts, declares the recruitment of adventurers, Wizards jump into the midst of the battle to test the magical powers they have studied.
With higher intellectual and magical power, Wizards have the ability to take a huge amount of damage to the enemy in a blow, and to take the enemy away from the battlefield at once. However, because they do not have time to train their bodies due to so much focus on magic, the Wizard's basic stamina is weak and therefore travel and combat is difficult. It is a job that assists friendly forces by using the enormous magic that can grasp the weakness of the enemy from behind and pierce through to create confusion within the enemy.[1]
Normans are the only race that can become Wizards.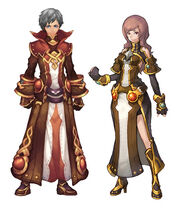 Wizards can only equip gear designated for:
Magician Classes
Wizard Classes
2nd Classes
All Classes
Cloth Armor (RO2 only)
Wizards can utilize the following weapons:
Wizards can move on to become Warlocks or transcend to High Wizards.
| 1st Class | 2nd Class | 3rd Class | Transcendant |
| --- | --- | --- | --- |
| Magician | Wizard | Warlock | High Wizard |
Wizards can be further customized through the Master Level System.